01 August 2022
9 new apprentices
We welcome our new apprentices and wish them success in their apprenticeship.
July 2022
For the environment's sake, we have invested in 60 new Eco Light Plus trailers.
Each of these trailers saves approx. 630 litres of fuel and 1.638 tonnes of CO2 with an annual mileage of approx. 150,000 km. (manufacturer's data).
31 May to 02 June 2022
LogiMAT 2022
This year LogiMAT was finally able to take place again in its usual form.
We would like to thank all visitors for their interest and are pleased about a successful event with many friendly contacts and exciting conversations.
See you next time!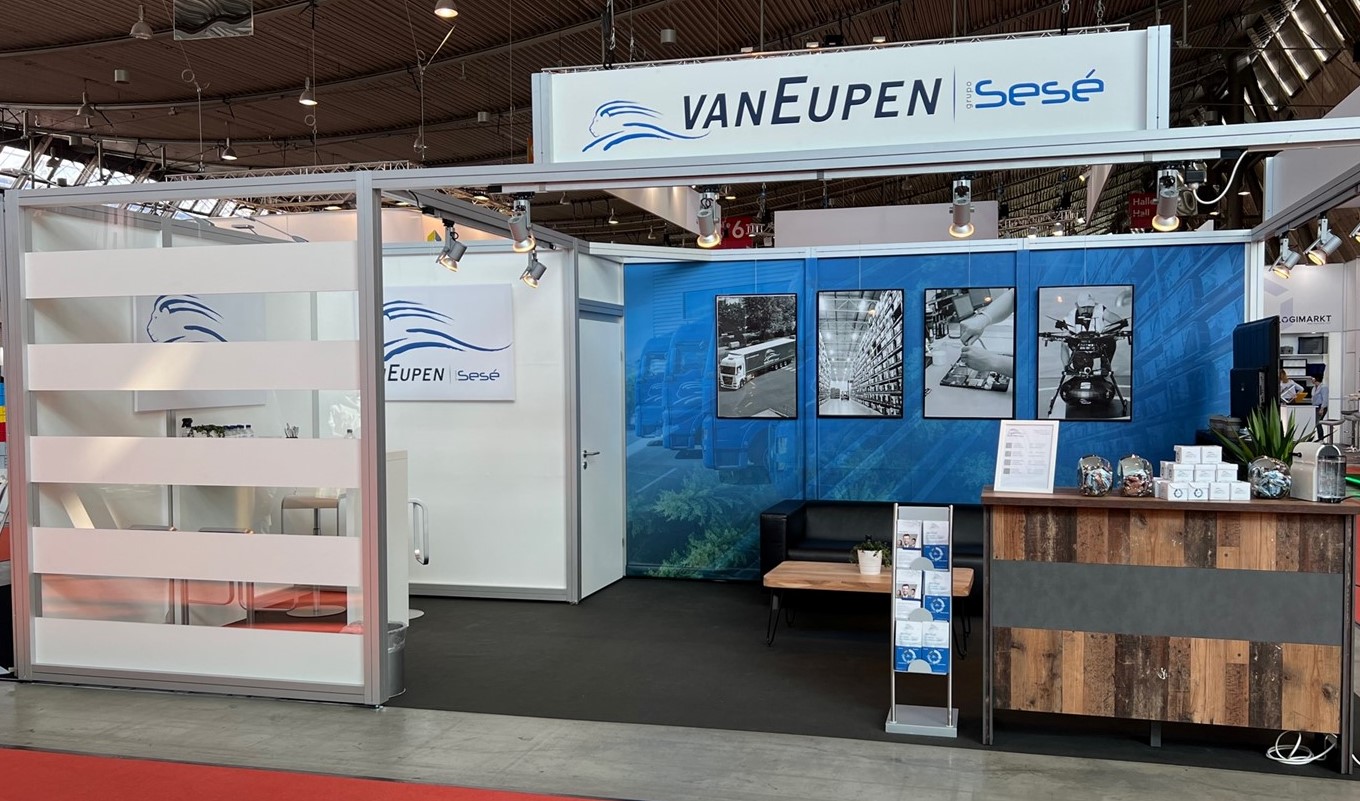 20 December 2020
vanEupen awarded with EcoVadis silver again
We have once again been awarded silver status in the CSR (Corporate Social Responsibility) rating by EcoVadis for our sustainable actions. Corporate Social Responsibility refers to sustainable development issues that are applied in companies.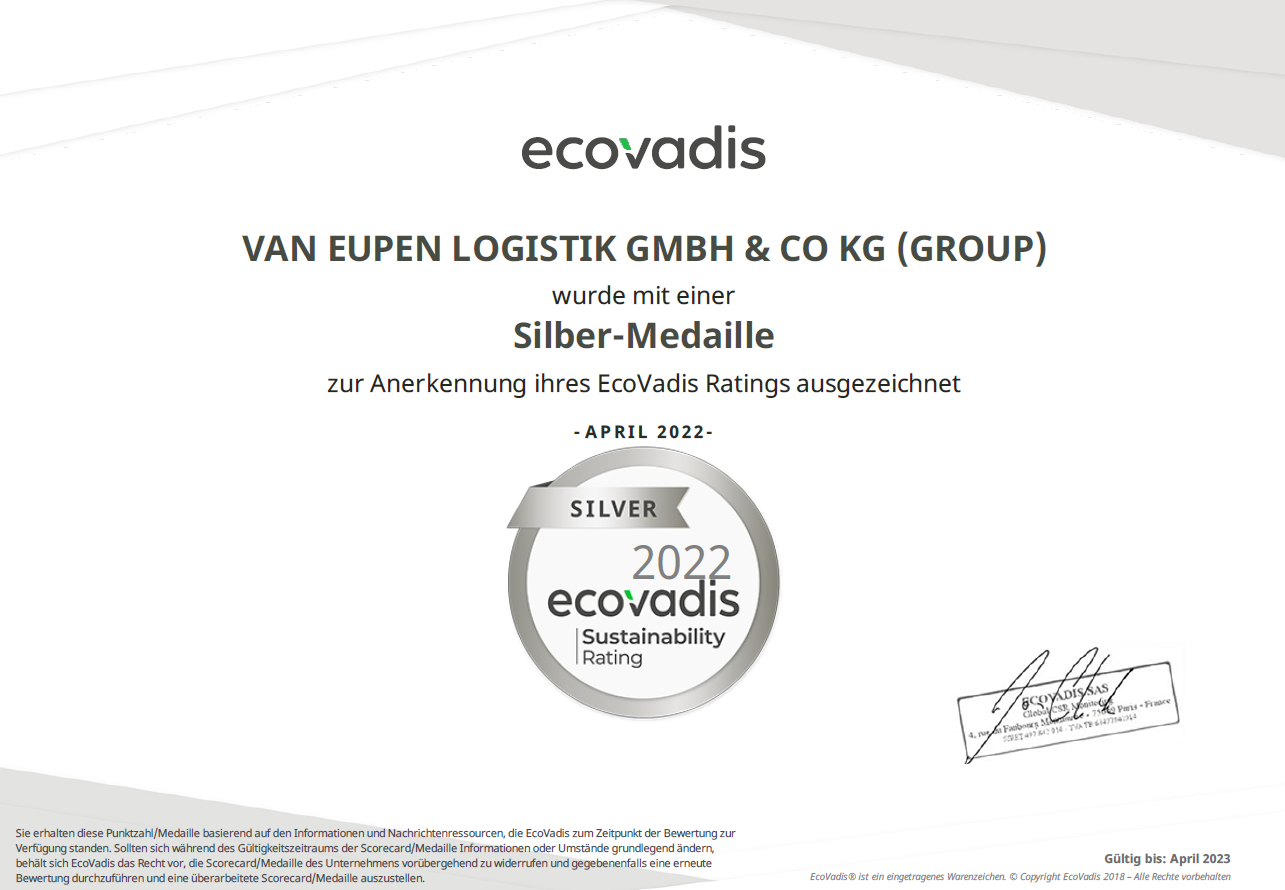 01. January 2022
Green electricity
Since 01 January, we have been sourcing 100% of our electricity from renewable energy sources throughout Germany. This reduces our CO2 emissions by approx. 2,800 kilograms per year.
01. January 2022
We support civil emergency preparedness in road traffic of the FRG through our voluntary work.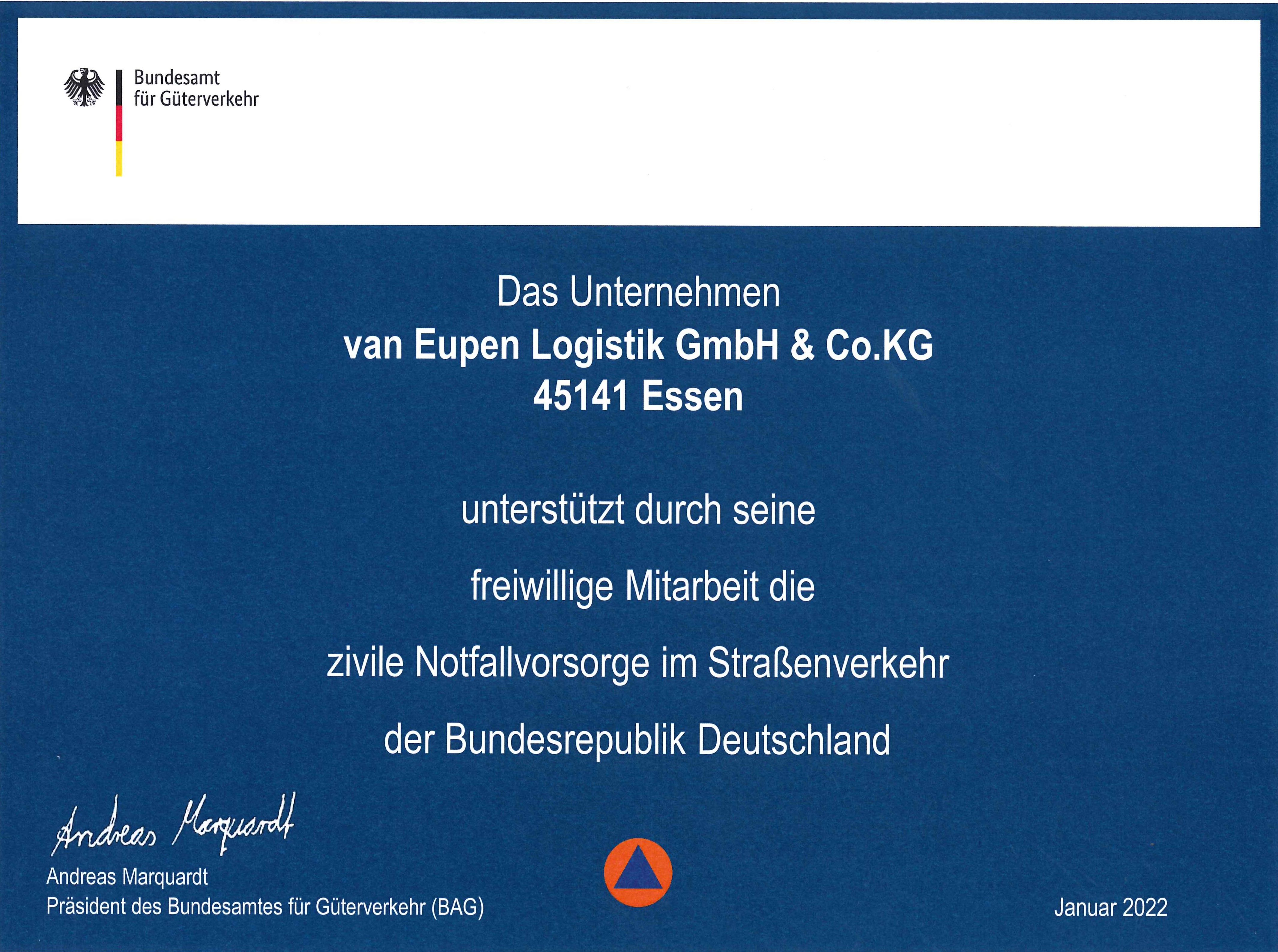 01 November 2021
Newspaper sponsorship
For the third year now, we are supporting the Realschule Essen-West with a newspaper sponsorship. That shall lead the students to read more often.
According to studies, reading on a regularly basis helps young people to increase their general knowledge and reading comprehension. Reading ist fun!

01 October 2021
Our trainees are actively involved in environmental protection
Our trainees from the 1st and 2nd year of apprenticeship are today actively working in environmental protection and have cleaned the van Eupen Forest in Essen from waste with the support of their training representives and our facility management. Finally, our management invited the participants to a joint meal.
10 August 2021
Bewegen hilft
Also in this year we support the organization "Bewegen hilft" with a donation, which has set itself the goal of combining the fun of sport and exercise with social commitment in the Lower Rhine region. SOS Children's Villages, hospices, women's shelters, self-help groups and sports clubs for the disabled are supported.
23 - 28 July 2021
van Eupen employee supports THW in flood areas
The rainfall and storms of the last few weeks created great challenges for all those concerned and helpers. We would like to express our special thanks to our employee Dennis Morgner, who spent six days actively supporting the THW in the affected flood areas of Herzogenrath, Brühl and Ahrweiler with pumping and clean-up work.
27 August 2020
van Eupen has received the Achievement Award for Workplace Conditions Assessment
In August 2020 we were tested for workplace conditions at our location in Unna by Intertek, a company for inspection, product testing and certification, and successfully passed this test. You can download the certificate > here.
22. and 23. February 2020
JOBMESSE IN DORTMUND
On Saturday, 22nd and Sunday, 23rd February, our staff from the personnel department, supported by staff from the operative areas (warehouse and transport management) and our commercial director, had many interesting discussions with the visitors to the fair.
We would like to thank all visitors & applicants for their interest and are pleased about a successful event with many pleasant contacts and exciting discussions.
09 August 2019
Honoring the jubilees
With an anniversary celebration and a joint meal, van Eupen thanked the jubilees for their loyalty and commitment to the company. We congratulate the jubilees on the anniversary.
23 July 2019
Environmental protection
Since 23.07.2019 we have been testing a natural gas truck in short-distance transports. Trucks powered by natural gas are characterised by very low CO2 emissions and low noise emissions.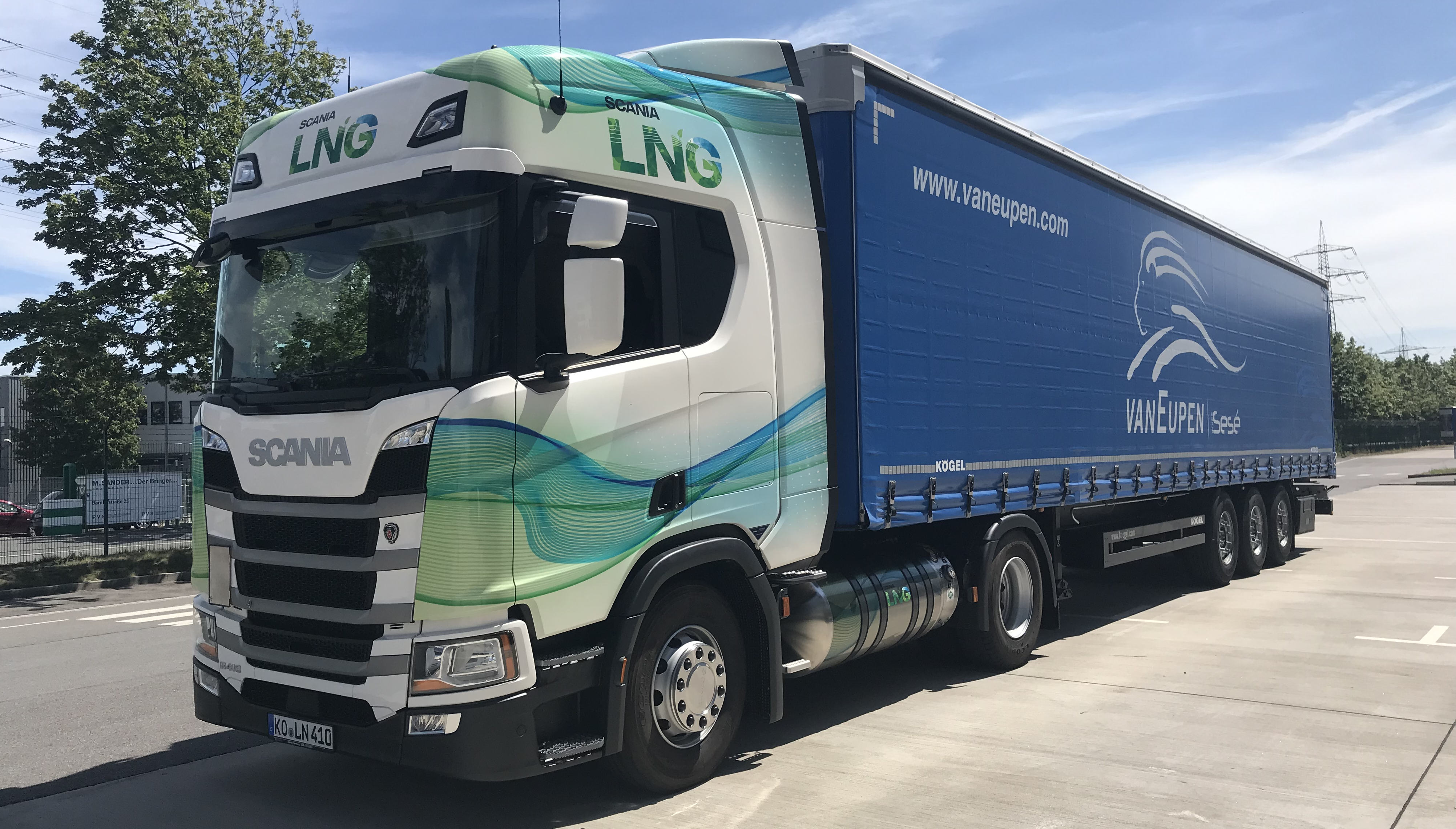 25 May 2019
8. Table soccer tournament
At our eighth kicker tournament exciting games and good food led to a successful event. Congratulations to the winning team Francisco García and Marc-André Arnsmann.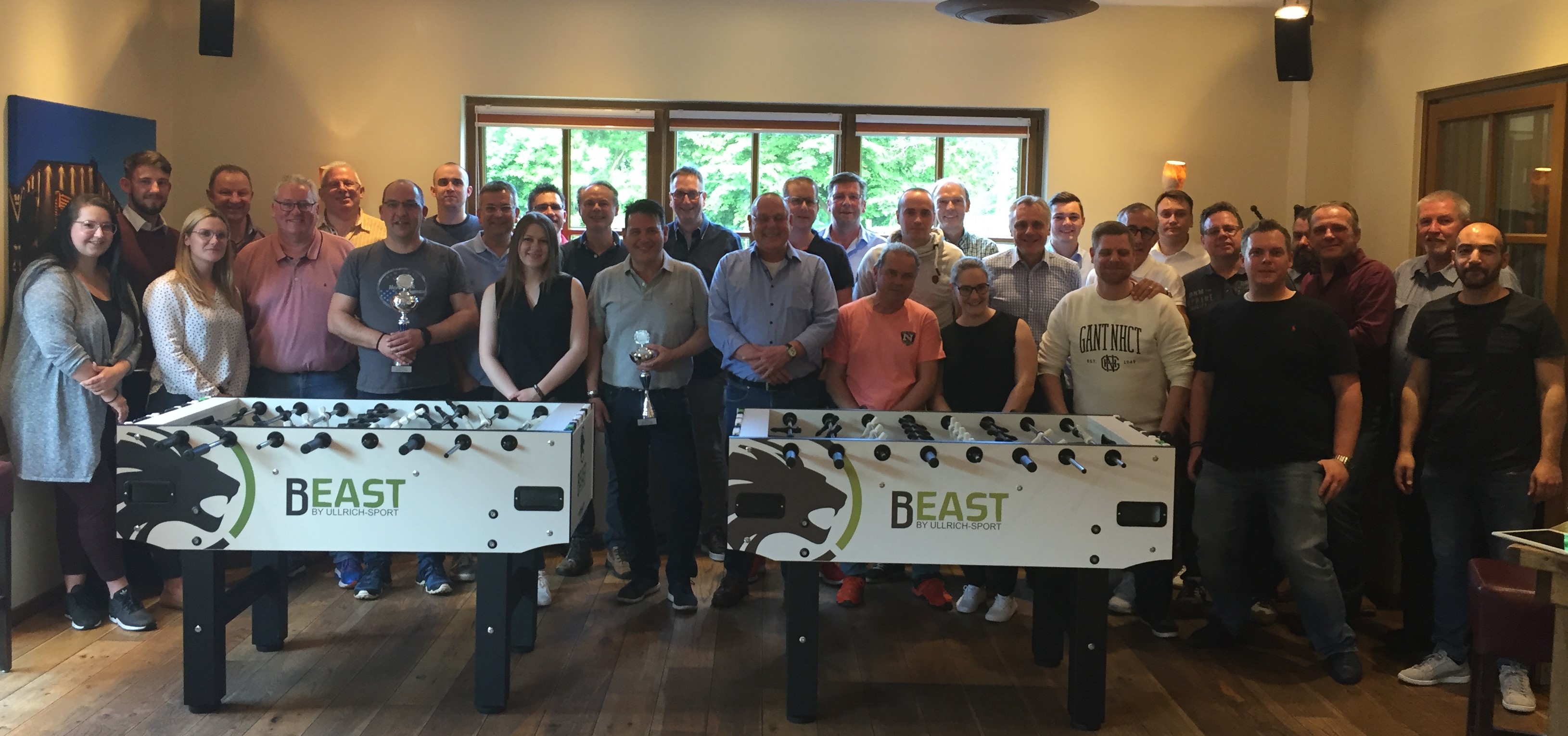 12 April 2018
Pass an exam
We are pleased to announce that Jaqueline Zenker, Christian Hanz, Marc-Andre Arnsmann and Mehmet Besir Simsek passed the apprenticeship exam (IHK) and are able to supervise and instruct our apprentices. We also congratulate Jaqueline Zenker and Mehmet Besir Simsek on passing their exams to become a specialist in freight transport and logistics. We look forward to further cooperation.
29 March 2018
van Eupen supports Folkwang University of the Arts
Also this year van Eupen is supporting the Society of Friends and Sponsors of the Folkwang University of the Arts e.V. with a donation.
20 February 2018
van Eupen wins "Euregional Logist of the Year" competition
As part of our training as a merchant for forwarding and logistics services, our apprentice Alexander Uhlendorf has won the title "Euregional Logistician of the Year" in a team of other German and Dutch apprentices. The project was first carried out by the German-Dutch cooperation "Ler (n) end Euregio" this year. The task was the joint processing of a case study with the aim of taking on a fictitious cross-border freight forwarding business. At the end The team of Alexander Uhlendorf convinced by well-negotiated transport prices, warehouse concept, tour plans and a structured presentation of the business model. We are proud of the winning team and congratulate on this achievement.
08 September 2017
van Eupen supports the Tafel in Unna
Our employees Adrian Oppermann and Carolin Worch distributed pea soup from the goulash cannon in the city of Unna. Soup and goulash cannon were provided by van Eupen and for a donation every visitor got a portion. The revenues went to the Tafel in Unna, which can finance further projects.